Foot and Ankle Pain Treatment in Columbus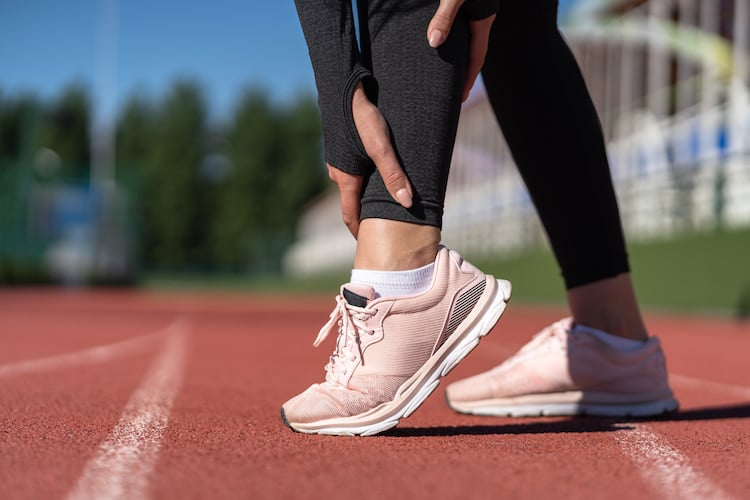 Foot and ankle pain can originate from various sources, such as injuries, overuse, arthritis, or underlying medical conditions. But one thing is sure: it can disrupt your life in ways you may never have imagined.
Whether it's a dull ache, a sharp twinge, or persistent discomfort, foot and ankle pain can be more than just an inconvenience; it can be a barrier to your happiness and mobility. The simple pleasures of walking, standing, and even playing with your kids or grandkids can be compromised.
That's where we come in. Our foot and ankle pain treatment in Columbus specializes in providing compassionate and effective foot and ankle pain treatment. Our mission is to help you regain your freedom and live fully. We believe that nobody should be held back by persistent pain, and our goal is to guide you toward a pain-free and active lifestyle.
Foot and Ankle Pain Causes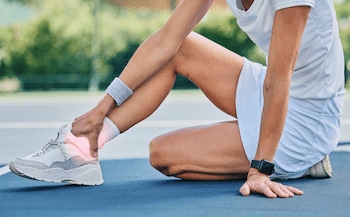 There can be a variety of culprits in foot and ankle pain, each with its unique way of making your life less comfortable. Common causes include sprains, fractures, plantar fasciitis, bunions, and more. These conditions can range from minor annoyances to significant impediments, affecting our daily routines and overall well-being.
Identifying the root cause of your foot and ankle pain is crucial for effective treatment. This is where a chiropractor for foot and ankle pain can play a vital role. Understanding the specific cause allows us to tailor our chiropractic care for foot and ankle pain to address your unique needs.
But there's more to the story. Sometimes, the spine can silently contribute to your foot and ankle discomfort. Misalignments in the spine may disrupt the body's natural balance, leading to issues in your lower extremities.
Our Approach to Foot and Ankle Pain Treatment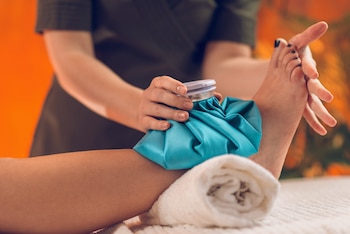 Our deep-rooted commitment to your well-being shines through in our foot and ankle pain treatment approach. Our philosophy is simple yet powerful: we believe in addressing the root causes of your pain, not just the symptoms, to provide lasting relief and improve your quality of life.
We understand that every patient is unique, as is their experience with foot and ankle pain. Our chiropractic care for foot and ankle pain is highly personalized.
Our experts take the time to listen to your concerns, conduct thorough assessments, and create a tailored treatment plan that suits your specific needs.
Our unwavering dedication to evidence-based practices and advanced techniques sets us apart. Our experienced chiropractor stays at the forefront of medical knowledge, ensuring we provide the most effective and up-to-date treatments.
We combine traditional chiropractic methods with innovative approaches to deliver the best care possible.
Your comfort and well-being are our top priorities. Whether seeking relief from chronic pain, recovering from an injury, or simply aiming for a healthier, pain-free lifestyle, we're here to guide you every step.
With our compassionate and comprehensive approach to chiropractic care for foot and ankle pain, you can trust that you're in caring and capable hands.
Benefits of Chiropractic Care for Foot and Ankle Pain
When you're dealing with the discomfort of foot and ankle pain, relief can seem like a distant dream. But the good news is that chiropractic care offers a range of remarkable benefits that can help you regain control over your life and put the spring back in your step.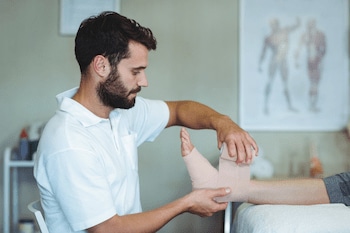 Reduction in Pain and Inflammation
Chiropractic care finds the root causes of foot and ankle pain, often involving misalignments or imbalances in the musculoskeletal system. By knowing these underlying issues, chiropractors can help reduce pain and inflammation, offering much-needed relief.
Improved Joint Mobility and Range of Motion
Stiffness and limited mobility in your feet and ankles can be incredibly frustrating. Chiropractic adjustments restore proper alignment and function, promoting improved joint mobility and a broader range of motion.
Enhanced Posture and Balance
Proper posture and balance are essential for maintaining overall health and reducing the risk of future injuries. Chiropractic care alleviates pain and helps improve your posture and balance, which can positively impact your daily life.
Prevention of Future Injuries and Chronic Conditions
Chiropractic care offers relief and works as a preventive measure by addressing the underlying causes of foot and ankle pain. It helps reduce the risk of recurring injuries and the development of chronic conditions, ensuring long-term well-being.
Avoidance of Invasive Treatments or Reliance on Pain Medications
Chiropractic care is a non-invasive approach that aims to treat the source of the pain rather than just masking the symptoms. This means you can often avoid invasive procedures or the need for long-term reliance on pain medications with side effects and potential dependencies.
Why Choose Our Chiropractic Clinic in Columbus
We understand you have choices when finding the right chiropractic clinic for your foot and ankle pain. So why should you choose us? Here are some compelling reasons why: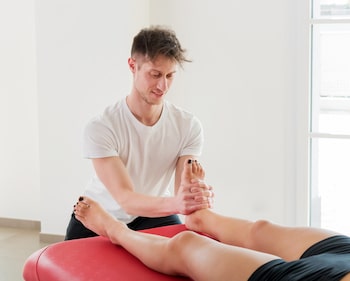 Experienced Chiropractor
Our clinic is led by a highly experienced chiropractor with a deep understanding of musculoskeletal issues. With a wealth of foot and ankle pain treatment expertise, you can trust that you're in capable hands.
Patient-Centered Care
We are committed to putting you, the patient, at the center of everything we do. Your concerns and goals guide our approach, and we take the time to listen, educate, and involve you in your treatment plan every step of the way.
State-of-the-Art Facilities
Our clinic has state-of-the-art facilities, ensuring you receive the most advanced and effective treatments available. We stay current with the latest chiropractic care to provide you with the best possible experience.
Positive Patient Outcomes
Our patients' success stories speak volumes about our commitment to improving lives. We take pride in the positive patient outcomes we've achieved, and your journey to relief and recovery is our top priority.
Convenient Location and Flexible Scheduling
We understand that life can be busy, so we've made it easier for you. Our conveniently located foot and ankle pain treatment in Columbus and flexible scheduling options make fitting your appointments into your daily routine simple.
Take a Step Towards a Pain-Free Lifestyle For You and Your Family
Our chiropractor is experienced and committed to your foot and ankle pain treatment in Columbus. We take a patient-centered approach, tailoring treatments to your unique needs, concerns, and goals.
Our state-of-the-art facilities ensure you receive the latest chiropractic care, and our track record of positive patient outcomes speaks to our commitment to improving lives. Convenience is critical with our well-located clinic and flexible scheduling options.
We invite you to take that crucial first step toward a pain-free, active life. Contact our clinic today for more information or to schedule a consultation. Your relief is within reach, and we're here to guide you toward a brighter, more comfortable future. Don't hesitate; your journey to recovery begins with us.